Pool screen replacement may consist of one or several screen panels in need of repair. We are very familiar with Central Florida screen enclosures and understand the urgency of needing repairs. No one likes to look at a hanging screen in their pool enclosure and for this reason we will schedule your repairs as quickly as possible to get your enclosure looking the way it should. You can count on Pool Screen Replacement Windermere.
At the scheduled time, one of our trained screen technicians will arrive at your home ready to work. He will first go over your entire pool enclosure and check for any additional panels that may be damaged. Nine times out of ten, you will not be able to see if there is damage on a roof panel unless you are up there (we do not recommend doing this on your own). Once you are aware of the panels needing replacement, you then decide which ones you want to replace. There is no pressure from a sales person, simply our screen tech showing you the damage and you deciding which ones (or all) you want to replace at that time. This way you know the total cost of your repairs up front. No surprises at the end of the job.
Pool Screen Replacement Windermere Includes:
Check your entire pool screen enclosure for panel damage
Replacement of damaged panels with new Phifer screen and spline
Complete clean-up of all old materials
In addition to panel repair, we also offer full pool screen replacement of your enclosure. Our full re-screening service includes:
Removal and disposal of all old screen and spline
New Phifer standard 18 x 14 mesh screen and spline
Separately screen each panel (no sheet rolling)
New door kits and bug sweeps
Adjustment of screen doors if necessary
Check of all cables for safety
As you can see, we truly make pool screen replacement simple.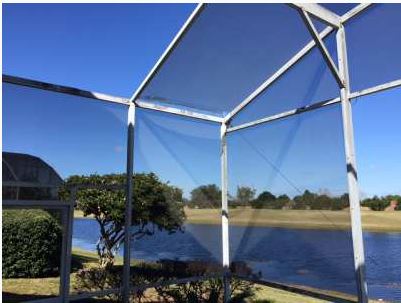 Other Windermere Screen Services:
Porch and Patio Screen Repair
Installation of Pet Doors
Screen Maintenance
Call us today with any questions about our screen services or to schedule an appointment.