All of our screen enclosure repair services begin with a written estimate. Once you have approved the estimate we will begin the work. We do not like hidden costs and we do not believe in adding them on. Pool Screen Repair Winter Garden has up front pricing for all of our services. We only use Phifer screen products on all of our jobs. This helps to guarantee you are getting the best and strongest screen in the industry.
Our screen technicians have experience working with all types of enclosures including pool enclosures, screen patios and lanais.
Our Screen Enclosure Repair Services:
Panel Repairs – We will replace your ripped or damaged screen enclosure panels. Our screen technician will check all of the panels (including the roof) in your enclosure and let you know which ones need replacing. The decision of how many to replace is up to you. Winter Garden Pool Screen Repair will never try to push you into replacing more than you want. We only want you to be aware of any panels that have damage for future reference.
Full Screen Replacement – We begin by removing all old screen and spline and properly disposing of it. New Phifer screen and flat spline is used to replace the damaged panels. We will then install new bug sweeps and door hardware, adjusting the doors if necessary. Lastly our screen technician will check the pool cage and all cables for safety.
Pet Doors – Large or small pets – we've got you covered. Many styles and sizes to choose from.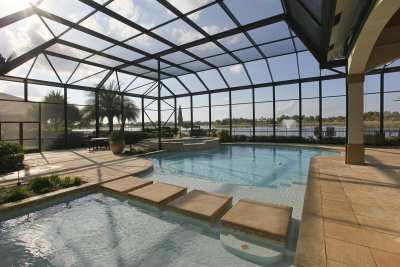 If you need more information on our screen enclosure repair services or if you need a service you don't see listed, give us a call or send a quick email through our contact form. We take all requests seriously and will get you the answers you need.